Use your power to make a difference by joining our Let's Do Good initiative.
All should Strive to help elderly People live a Happier and Safer Life
Saturday , 08 January 2022- 5 min. read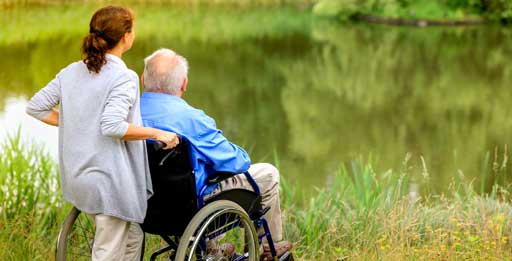 Communicating with elderly people enriches our personality and makes us more intelligent. Here we narrate a short inspirational story about an elderly lady, which will encourage us to serve old people better, andin the process, enrich our own lives.
Few years ago, Nitin worked as a taxi cab driver.
One day, he was required to pick up a passenger in the middle of a wintery night. When he arrived at the mentioned address, he found the entire house dark except for a low wattage bulb burning in a ground floor window. It was dark, chilly and the eerie feeling would have prompted many drivers to wait for a couple of minutes and then make good their escape without collecting the passenger.
Nitin, however, was a kind-hearted soul who always went out of his way to help people and make his passengers feel comfortable. He decided to wait thinking that the passenger who had called him in the middle of the night must be in the need of some assistance. Instead of incessantly honking and disturb others, he decided to walk to the door and knock softly. He heard footsteps approaching and a frail and weak voice of an elderly woman from the other side of the door. The door opened slowly and he saw a small lady in her early 80's, wearing a loose gown with a sweater above it. There were two small suitcases lying by her side.
Nitin was taken aback by the sight of the old frail, lady who wished to go alone in the middle of the night. He picked up the lady's suitcase and helped her to walk to the parked cab. "Thank you for your kind-heartedness" – she said. Nitin replied that's it is there is nothing to be thankful about as he treats all elderly people the same, he would like his mother to be treated. And above all, basic decency demands that all elderly people must be treated with utmost kindness and compassion.
When she got into the taxi, she asked Nitin whether he could drive her to the given address through the city's main square. Nitin, honest as always, told her that it was not the shortest way to her destination. The old lady told him that she knew that, but she was in no rush as she was on her way to a elderly care facility as she had no family. Nitin noticed tears in her eyes.
Seeing that the old lady was alone and sad, Nitin stopped the meter, and asked her about what route she would prefer. While Nitin drove the car through the city, he saw the old lady cheer up as she excitedly showed him the places that were important to her in her life. The hospital where she worked as a nurse, the first house where she lived with her husband after their marriage, the college where she studied, and the market she often visited with her friends and her children.
After two hours of driving around the city, she finally asked him to take her to the given address.
As soon as the taxi arrived at the destination, Nitin saw two people coming to towards the taxi. One took her suitcase, while the other helped her ease into the wheelchair. The old lady asked Nitin for the total fare that she owed to him. Nitin replied that she owed him nothing as he had never started the meter. "But you have to make a living ", she said. Nitin again refused politely telling her that there will be other passengers. Nitin could see the feeling of gratitude in her eyes, as he hugged him tightly thanking him for giving her those precious moments of joy amidst all the gloom.
While getting back to his back, Nitin heard the door of the caring center shut. He felt as he heard the sound of closing of a person's life.
That day he did not pick up any other passenger. He just drove aimlessly through the city, completely lost in the thoughts of his previous passenger. He thought of what would have happened if she had called another cab with an angry and impatient passenger, completely unwilling to entertain an old lady's request. He had been driving taxi for a few passengers and picked up thousands of passengers during this time. But Nitin considered it to be the most important ride of his life, as he brought some cheer to an old and helpless lady. He was thankful to God for this wonderful opportunity for bringing a little joy of light in someone's world surrounded by darkness.
India's culture and heritage have always taught us take care of our elderly and treat them with love, respect and care. Unfortunately, in this modern age, we are quickly forgetting our rich culture and ancient wisdom. We often feel that elderly people have outlived their usefulness and they are now a mere burden on the society. Nothing can be further from the truth, as elderly people can still help us with their wisdom and experience in life. We should cherish old people and serve them in the best possible way so that they can lead their best lives, every day.
We should indeed treasure the precious and meaningful moments we spend conversing and taking care of our elders.
Every effort, however small, to make earth a better place is a priceless service to humanity. India Is Us (i2u Social Foundation) believing that your individual small effort has the potential to create a sustainable earth for all. It works with multiple well-known NGOs such as DEEPALAYA and SHEOWS to serve and care of older adults. If you run an NGO, you can take help of NGO support ecosystem created by i2u to make a difference in life of elder people. It can help your NGO become sustainable in the long run. Give India Is Us (i2u Social Foundation) a call at 95997 75838. Alternatively, you can also drop a mail at support@indiaisus.com for any query or help.