Use your power to make a difference by joining our Let's Do Good initiative.
Empowering India's Future:
Support India Is Us (i2u Social Foundation) 🇮🇳
India Is Us (i2u Social Foundation) is a transformative NGO support ecosystem that works tirelessly to assist companies, individuals, and civil society stakeholders in fulfilling their social development responsibilities and implementing impactful Corporate Social Responsibility (CSR) initiatives. By collaborating with a wide network of verified and trusted NGOs across India, i2u is making a profound difference in the lives of countless individuals.
Led by a dedicated team of experts, i2u brings together veterans from the social development sector, CSR specialists, donors, fundraising experts, social impact professionals, communication experts, advocacy enthusiasts, and passionate volunteers. This collective expertise and passion form the driving force behind i2u's mission to create a brighter and better India.
Causes We Support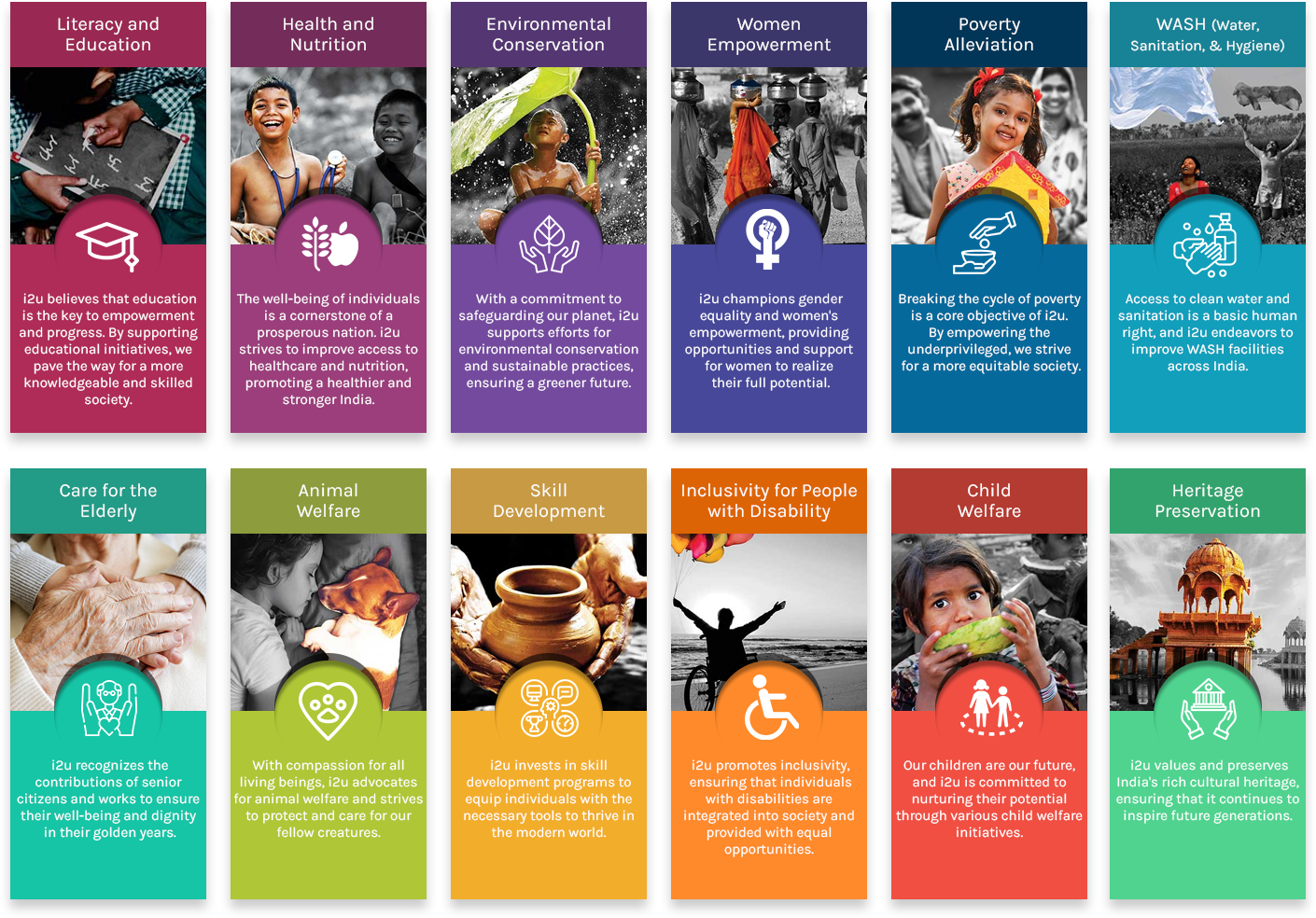 i2u's support for NGOs goes beyond financial assistance. We focus on capacity building, enabling NGOs to perform better and achieve sustained growth. By mobilizing donors and volunteers, we amplify the impact of these NGOs, fostering positive change on a larger scale.
Your support matters greatly in our mission to transform lives and communities. Every contribution, no matter how big or small, has the power to create a ripple effect of positive change. With your generous donations, we can expand our reach and drive even more significant social transformation.
Spread the word about India Is Us and the meaningful work we do. Together, we can ignite a collective passion for social development and inspire others to join this noble cause.
Thank you for being an integral part of our journey to build a more inclusive, compassionate, and thriving India. Your support can make a world of difference. Join us today and be a catalyst for social change! 🌟
Let's create a brighter future for India, where every individual has the opportunity to thrive and contribute to the nation's progress. Together, we are India Is Us!