Use your power to make a difference by joining our Let's Do Good initiative.
#Pushing for Inclusion |Differently abled | Indiaisus
+91 9599775838 | support@indiaisus.com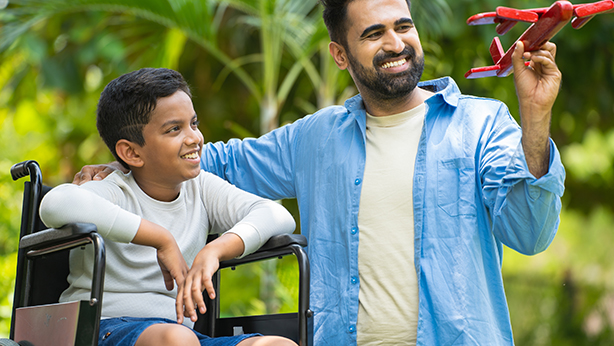 Some people consider disability to be a curse; ending dreams, as disability cannot be an obstacle to success, instead, it is an opportunity to strive harder and emerge victorious.
Let's be a change maker and create opportunities for disabled people.
Spotlight
Ngo Name: Kiran Society
13-02-2020 UP
Impact: Kiran
Description: Disability is not a curse, it is an opportunity to strive harder and emerge victoriously and KIRAN Society is striving hard to make a society where children and persons with disabilities are welcomed, supported and encouraged. If you also want to be change maker, get involved with #OneDayForFuture #Differentlyabled #SocialCauses
Ngo Name: ATPAR
14-01-2020 Delhi
Impact: ATPAR
Description: The disability is not the problem, access to work is the problem and ATPAR is working to build and create opportunities for people with disabilities, their families and enable them to have equal access to competitive sustainable livelihoods for their economic prosperity. They address this gap through entrepreneurship development training and by providing mentor support to become self-reliant members of society. If you want to be a change-maker, get involved with #OneDayForFuture #SocialCauses #SkillDevelopment #DifferentlyAbled
Ngo Name: We Are One
09-01-2020 Delhi
Impact: We are one
Description: The journey of We Are One is full of self-belief, hard work, commitment, conviction, and hope. Mr. Husnain, the founder himself is a differently-abled professional wheelchair dancer who has proved that disability is not a hindrance to success. He works with all abled artists on wheelchairs, hearing, and speech impaired artists who believe that dance has no barriers. If you want to be the change maker, get involved with #IndiaIsUs #OneDayForFuture #DifferentlyAbled #SocialCauses
Ngo Name: We Are One
01-01-2021 NEW DELHI
Impact: WE ARE ONE
Description: Director and Founder of We Are One has an important message to share with us all. Watch this short video to know more about them. #IndiaIsUs #NGO #WeAreOne #message #positivityinsight #motivation #inspirationalmessage
Ngo Name: Astha Shakti
01-01-2021 Bangalore
Impact: Astha Shakti
Description: Headmistress of Swamy Vivekananda Vidya Kendra, Hoskote School, Mrs. Poornima L, is expressing gratitude towards a #HappinessSanta, who has been a source of joy for their students and teachers. Astha Shakti has done an incredible job of helping both students and teachers during the pandemic! For donation, save the detail: Federal Bank Current A/c 18270200001831 JP Nagar Branch IFS Code FDRL0001827 #IndiaIsUs #onedayforfuture #supportingngo #christmas #helpinghands #positivityinsight #festival #celebration
Ngo Name: Kiran Society
01-01-2021 Varanasi
Impact: KIRAN SOCIETY
Description: Sonu shares his experience of being associated with KIRAN Society for the last 25 years. Watch him elaborate on KIRAN NGO's wonderful work. Learn how they help differently abled kids to amalgamate with the mainstream. Account details for donation KIRAN SOCIETY, MADHOPUR, P.O. KURUHUAN, VARANASI-221011 BANK DETAILS: Name: KIRAN SOCIETY Name of Bank: UNION BANK OF INDIA, Branch: SONORPURA, VARANASI Saving Account No.: 432402010005516 IFSC CODE NO: UBIN0543241 Name and Address of Bank-: Union Bank of India Branch: Sonarpura Address: 13, Jawaharnagar Bhelupura, Varanasi-221010 (U.P)
Ngo Name: Viklang Sahara Samiti Delhi (VSSD)
22-12-2020 New Delhi-110083
Impact: Viklang Sahara Samiti Delhi (VSSD)
Description: Mr. Surya Pal Singh is reaching out to share how Viklang Sahara Samiti Delhi is his #HappinessSanta. He emotes how the #NGO has helped his family during the toughest time this year. For Donation, connect Viklang Sahara Samiti at 011- 27913307 or call/ WhatsApp Kumari Dhanu Gurang on 9899615733. #IndiaIsUs #onedayforfuture #supportingngo #christmas #helpinghands #positivityinsight #festival #celebration
Ngo Name: We Are One
03-12-2020 HWF (Handicap Welfare Federation) IP Ext,Madhu Vihar, Near Ahinsa Dham mandir,Delhi - 110092
Impact: We Are One
Description: Disability is challenging. But empathy and care from the society surely encourages people with disability to live a better life. This International Disabled Person's Day, India Is Us would like to extend gratitude and thank our partner NGO-We Are One for their dedication and hardwork towards the cause. Thank you for being a beacon of hope in the lives of people living with disability. #IndiaIsUs #internationaldisabledpersonday #disability #disabilityawareness #autism #disabled #handicapped
Ngo Name: Kiran Society
05-12-2020 Varanasi – 221011, U.P. India.
Impact: Kiran -A ray of hope in lives
Description: The word &ldquo KIRAN&rdquo means &ldquo ray of light&rdquo and KIRAN society strives to be just that in the lives of children with different abilities and of marginalized communities. Through our rehabilitation, education, and vocational skills training programs, we bring holistic empowerment to the children we serve in the greater Varanasi area. Founded in 1990 by a small group of people from various social, cultural, and religious backgrounds, our commitment to inclusivity started at the roots. Growing with our &ldquo bottom-up&rdquo philosophy at heart, we focus on uplifting our children along with the communities they reside in. This mission emphasizes individualized rehabilitation plans, small classrooms, family involvement, and sustainability with continuous opportunities for students to expand their independence. With the support of our friends around the world, we are proud to continuously grow our ray of light while remaining in practice outside of Varanasi, with the people who inspired our initial spark.