Use your power to make a difference by joining our Let's Do Good initiative.
We need to Work Together for Poverty Reduction
Saturday , 01 January 2022- 5 min. read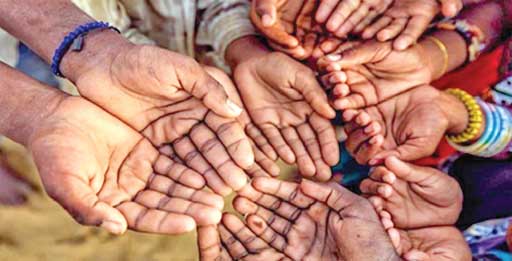 For more than two and a half-decade, extreme poverty was gradually receding. But unfortunately, it has again started rearing its ugly head, largely owing to the challenges posed by the Covid-19, pollution, climate changes and conflicts.
The number of extremely poor people witnessed a sharp decline from 1990 to 2017. During the 27 years, the number of people living in extreme poverty fell from 1.9 billion to 689 million. Extreme poverty across the globe fell by an average of 1 percentage point per year between 1990 and 2015. However, it saw a sharp decline between 2015 and 2017, as it fell only by half a percentage point.
No nation is isolated from the effects of these threats, but the worst sufferers are countries with large population. As per the reports, extreme poverty from 2019 to 2020 is anticipated to be greater than any time since the World Bank began to keep a tab on global poverty in a consistent manner. While Covid-19 is the latest challenge, other factors like conflicts and climate change have been contributing to rising poverty graph across the globe for years.
The impact of Covid-19 on poverty reduction has been significant. As per reports, this pandemic, which originated in China, in 2020 alone could radically give rise to the number of people living in extreme poverty by more than 100 million. The novel virus is causing severe disruption in daily livelihood. The poorest, who live from hand to mouth are the worst sufferers, as the pandemic-enforced lockdown has snatched from them their daily earnings, and subsequently their daily bread. It is no wonder then that the poorest people are enduring the highest death rates worldwide.
A new World Bank report — Poverty and Shared Prosperity 2020: Reversals of Fortune, talks at length about factors that are impeding poverty alleviation. The report also suggests actions that need to be taken to ensure that the efforts to alleviate poverty is not stymied.
17-year-old Shekri lived in poverty even before the pandemic struck. She currently lives in Telia in Kishanganj district of Bihar in India. Her village is one of the most backward in the district with hardly any facility to better the lives of its inhabitants. It has a single primary school and a single well, which serves as a source of water for the entire village. The village gets hardly two hours of electricity every day and the roads are unpaved.
Ever she reached her teen, she has dreamt of obtaining further education, move to the city, and be a high school teacher, so that she can do something for her community, her family, her village, and her country. But her parent's poverty is coming in the way of her dreams. Her parents, who are small-time farmers struggle to put two meals on the table, find it extremely hard to pay for her books and pencils. Not willing to disappoint her daughter, and help her fulfill her ambition, her father has to sometimes take loan from the local moneylender to enable to continue with her education.
However, a new project, the result of a collaboration between the government and the local NGO, in response to the pandemic, seems to be a godsent opportunity for her.
Shekri has found work in a project where she is being taught how to make and sell soap. The project is funded by the Bihar government, and implemented by a local NGO Women Hope. The project has won laurels from many quarters owing to the various benefits it offers. First and foremost, washing hands frequently with soap has been recommended by health workers and agencies to fight the coronavirus. As such, the strong demand for soaps serves as an important tool of poverty alleviation, by providing a steady source of income to people like Shekri, who are most at risk of economic hardships.
Every day, when Shekri she and her co-workers meet, they make plans of bettering their lives with the income derived from soap making.
Shekri is extremely happy, as the new project has given her hope of a better future. The money she receives allows her to pay for her education, without having to burden her already poverty-stricken parents.
Shekri's wish to create a future full of hope and happiness for herself, her family and her community. Importantly, this dream is not Shekri's alone, but shared by millions of people in India and around the world who unfortunately live-in extreme poverty.
As a community, it is our duty to work together to ensure that poverty is wiped out from India as well as around the globe. The advent of Covid has forced the planet to face the most devastating forms of poverty, and we must work together to lessen the impact of this menace.
India Is Us (i2u Social Foundation) is an NGO support ecosystem filled with incredibly talented people that helps well-known NGOs working in the field of poverty alleviation to fulfill their objectives of eradicating poverty. .
It is because of NGOs like ACCESS and Sakaar Outreach that work with i2u, that girls like Shekri are finally freed from the burden of poverty. People living below poverty line can finally dare to dream about a future where they have to work day and night in the sweltering heat and extreme cold for two square meals a day.
It is because of the work of these NGOs that poverty-stricken girls and women are able to overcome generations of deeply entrenched poverty to live a more fulfilling life.
i2u works with numerous NGOs across India, focusing on twelve causes, including literacy and education, health and nutrition, environmental conservation, women empowerment, poverty alleviation, care for the elderly, animal welfare, skill development, inclusivity for people with disability, child welfare, WASH and heritage.
i2u supports NGOs by helping them perform better through capacity building, sustainable growth, donor and volunteer mobilization.
In the tremendous fight to end extreme poverty, we could all use a little inspiration to make a huge difference. To partner with i2u, please call at 95997 75838.