Use your power to make a difference by joining our Let's Do Good initiative.
Inspiration Dog Tales of Love and Perseverance
Tuesday , 04 January 2022- 5 min. read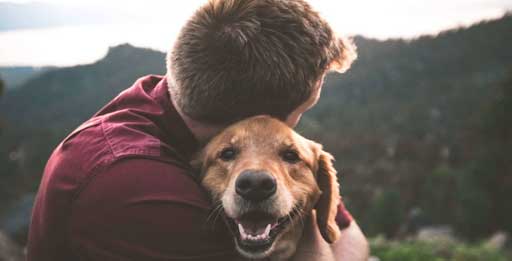 The present year is the one we would like to erase from our memory in a hurry. Families around the length and breadth of the country were devasted by Covid-19 as shortage of oxygen and ventilators killed hundreds of thousands of people. It has been an incredibly tough year for people, and surrounded by all doom and gloom, no one can blame a person for feeling wretched, gloomy and frustrated.
However, amidst all the despair, pessimism and dejection, 2021 was also a great year for moving and cheerful stories from our canine friends. We heard many inspiration stories of heroic dogs, who suffered greatly but kept pushing, in the process teaching us never to give up even when completely engulfed by despair and uncertainty. Here are few of the most inspirational dogs of 2021 that serve as a constant reminder for not throwing in the towel despite hardships and sorrow in life.
When Rony, a Labrador was found six months ago in an abandoned home, the poor dog was malnourished and frightened. After spending six-months in a shelter run by an NGO, he became immensely friendly with all the people around him. However, the lovely dog was still unbale to find a family that could take good care of him for the rest of his life. Rony was a bundle of joy ready to shower everyone with his love and affection. In course of time, Rony found an abandoned old bucket, and quickly the bucket became the dog's best friend. Rony played with the bucket throughout the day, the only toy that the playful dog could not tear apart.
One day a visitor clicked few pics of the cute dog playing with the bucket, and posted it on social media. The pic went quickly viral, and hundreds of offers started pouring in at the NGO, enquiring about the dog. People reckoned that if a dog could display such affection for a lifeless bucket, there would be no limit as to how much it would love a family. Rony was finally adopted by a wealthy family, who took the dog as a birthday gift for their only son. Ron's story teaches that when you give love in abundance, you are ultimately going to find love no matter how adverse the circumstances.
Mitu, the German Shephard has been with his blind owner for the past three years, ever since he brought him home from a local animal shelter. Mitu's owner Shyamlal went for evening walk every day, with his faithful dog keeping by his side. Despite being blind, Shyamlal had no trouble going on his walk as Mitu served as his master's eyes keeping him away from harm's way. One day while on his regular evening walk, tragedy befell as an out-of-control bus swerved and came hurtling towards the pavement where Shyamlal was walking.
The faithful dog, ever alert and active, quickly gauged the situation, and pushed his master out of the harm's way with all his might. Shyamlal escaped unhurt, but the poor dog took the majority of the impact. Despite being severely injured, Mitu stayed near his owner till medical help arrived, Over the next few months, Mitu made full recovery and returned home to a welcome reserved specially for heroes. Mitu's deeply moving story sets an excellent example for us to help others without thinking of the consequences.
Rini, a poodle was born with deformed front legs. The playful dog though did not let her handicap come in way of her fooling around and being friendly to all. However, the deformity in her legs often led to cuts and injuries. Her owners appealed for help on Facebook, and offers of help started pouring in from all quarters. A local animal welfare NGO got in touch with the owners and took the dog to a renowned veterinary surgeon where she was fitted with a fully customized pair of prosthetic legs. Within a short period of time, the cute dog was able to run around and play like any other normal dog. Now the happy dog runs along without any fear of getting bruises and cuts. It shows that a combination of technology and compassion can make this world a better place not only for human but animals as well.
Helping Hands for Animal, one day got a call in their office about a malnourished pup from a good breed living in a hospital parking lot, and immediately knew that they have to rush to the site to save the pup. They went to the hospital parking lot where they found the emaciated pup sitting with his head down, perhaps too weak and underfed even to stand up. Initially, the dog, accustomed to living alone was fearful, but once it realized that the humans were friendly and had come to help him, he immediately started wagging his tail. The dog was carefully brought to the care center in a van, where it was given shots for parasites, and then given a good bath.
With a refreshing bath some careful grooming, and good feeding, the pup became immediately active and started moving around the room. The pup slowly started trusting humans, and went through a complete transformation. Soon she was adopted by a good family where she became the darling of her owner's youngest daughter. The dog's new master named him Mocha. This story of compassion and care shows us that love has the power to change people and animals, even against all odds.
India Is Us (i2u Social Foundation) offers complete strategic support to corporates, NGOs and individuals in realizing their social responsibility goals. i2u works with numerous NGOs across India, helping them perform better through capacity building, sustainable growth, donor and volunteer mobilization. It works with well-known NGOs like Helping Hands for Animals, SRI KRISHNA BALARAM SEVA TRUST, and Sharnam to name a few, to help animals live a pain-free life. You can reach it at +91 95997 75838 or drop a mail at support@indiaisus.com for more information.