Use your power to make a difference by joining our Let's Do Good initiative.
How NGOs Can Benefit From Social Media
Saturday , 27 February 2021- 5 min. read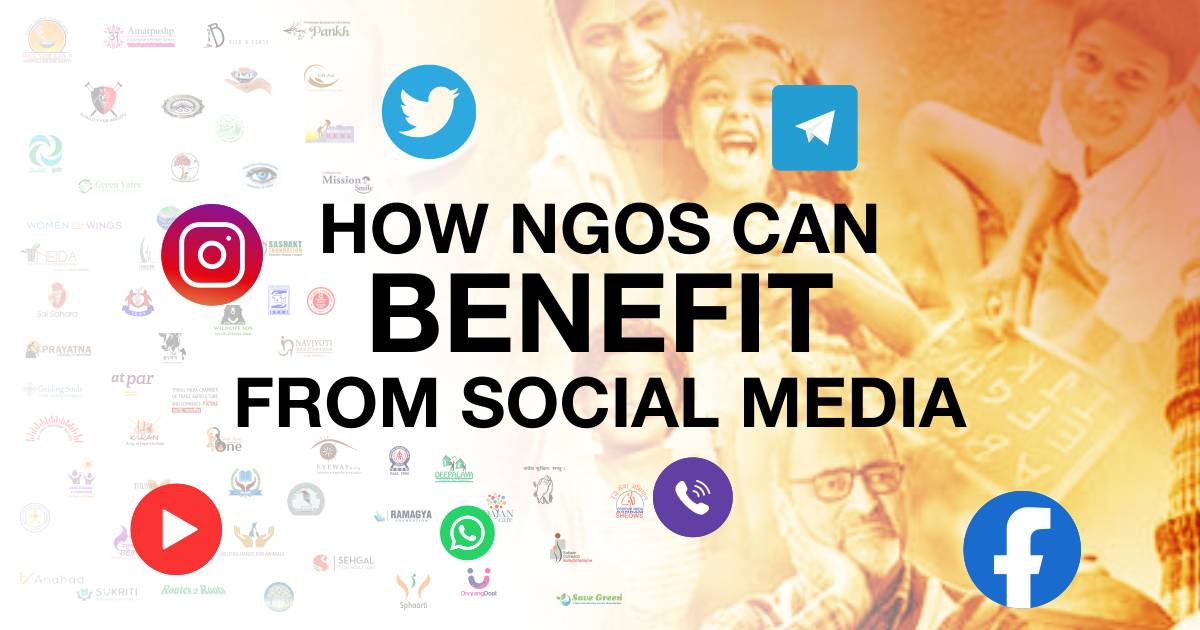 If You Are Running an NGO- Your Social Media Presence Matters
But you aren't a for-profit organization. Then why do you need social media? The answer is simple. NGOs need social media for the same reason we need it- to communicate with their audience and share ideas.
Think about it. Before social media, NGOs would garner mass attention through community reach out programs. They are still effective but social media has amplified their reach to infinite levels. An NGO running from a tier 3 town in Rajasthan can reach out to people all over the country and beyond. It is as if physical borders do not exist, especially in the online world.
Recently, Britain's world war veteran, Captain Tom Moore got two Guinness World Record titles to add to his accolades when he successfully raised several million dollars in funds- all through social media.
That's the power of social media we are talking about!
Here are Some of the Reasons Why You Should Promote Your NGO on Social Media:
Social media helps you reach out to potential donors easily and quickly. Social media sites are a great medium for social interaction. Every post you do on social media sites creates an opportunity for followers to become your supporters and donate to your cause.
Multiply Your Supporters and Spread the Word About Your Mission: Social media platforms boom on the fundamental human requirement to share information. When they see something new, they can connect with, they are likely to share it with their social media followers, friends, and family or repost it on their profile. If you post some compelling content regularly on your social media channels, you can reach out to more people across the world than you ever imagined was possible.
Thanks to clever algorithms, prominent social media platforms will even help put your content in front of more people if they see that your content is very well received and appreciated by your existing audience. Further, you can always invest in the paid promotion of your content to help increase your reach.
Attract New Donors and Event Attendees: Today, as most of the people are active on social media, this could lead to more real-world connections. Promote your cause and fundraising campaign on social media and you will probably attract many people donating to your NGO. Social media platforms like Facebook and Instagram have made it extremely simple for NGOs to convert social media followers into volunteers and supporters. People can donate to your organization directly through these platforms or show that they will be attending your event, all while sharing these updates with their followers to get even more support.
It's Free – If you handle your social media accounts, running a social networking campaign is unlikely to put additional strain on your finances. If you avail yourself of the services of social media experts, it'll be an investment with good ROI. If you're frightened by interacting with users online or your content writing skills leave something to be wanted, hiring a PR agency is certainly the way to go. You would certainly not want to be conveying a message that is likely to run contrary to your intended objectives.
Grow Your Network of Volunteers: Remember, there are several other businesses, and not only your partners present on social media. Establishing good online relationships with businesses whose work is relevant to your mission could help you gain your next sponsor or corporate partner. Further, if some of your partners work for reputed organizations, they may favor your NGO by asking their employer to volunteer and donate to your organization. They can also persuade their co-workers to volunteer at a nonprofit event.
LinkedIn is a Powerful Outreach Tool for NGOs
"With 300M+ Members across the globe, LinkedIn is the world's largest professional network. 22+ million members are "following" their favorite nonprofits on LinkedIn 6 million Nonprofit Members are using LinkedIn to build their brand and network of supporters."
With users gathered to find professional opportunities, this is the go-to platform to recruit for qualified and eager new members, board, volunteers, and staff. LinkedIn has a specific Volunteer Marketplace, which is optimized to help you find board members and volunteers (and for them to find you!). They've partnered with VolunteerMatch to give NGOs looking for skilled volunteers direct, easy access to LinkedIn's network. This means that when you post your board member and volunteer opportunities on VolunteerMatch, they are automatically added to LinkedIn within 24 hours.
You should always remember that content on social media sites is important, so plan and access your content prior to posting. Social media is an excellent and great medium to reach out to people, consequently, it should be used with choice and control to build a positive image for your NGO.
If you are looking to promote your NGO on social media, then India is Us can help you. India Is Us offers complete strategic support to corporates, NGOs, and individuals in realizing their social responsibility goals. Check NGO's List in India here, whom we have helped.