Use your power to make a difference by joining our Let's Do Good initiative.
Engage Your Employee For Good Cause To Improve Productivity
Friday , 09 July 2021- 5 min. read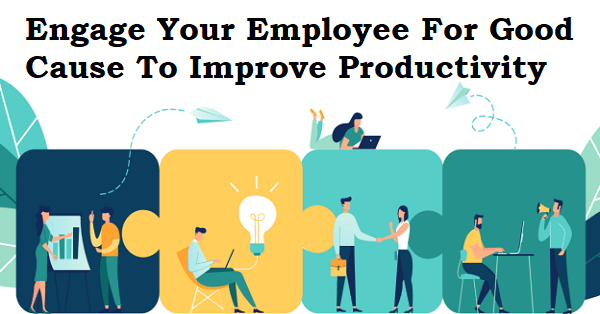 A disengaged workforce is a threat to a company's prosperity. It will challenge the company's talent retention policies, adds to the hiring costs, and lowers productivity.
Often companies try to tackle the employee engagement problem with pay perks and other receivables. To some extent, such strategies worked. As psychologist Frederick Herzberg noted in his 1968 article "One more time, how to motivate employees?" happy employees are those who can fulfill their aspirations at the workplace. Things like achievement, responsibility, avenues for personal growth, giving back to the community, etc., are valuable to an employee than material benefits.
Here is where companies that engage their employees through volunteering programs are benefitting. You must thus try volunteering programs to engage your employees.
Now, How Does Volunteering Boosts Employee Productivity?
Many surveys have found that volunteering boosts the physical and emotional health of an individual.
It boosts self-confidence.

It creates a positive mental effect as the person believes that she is making a difference in the world.


One can meet new people and make new acquaintances during volunteering.

When volunteering with the team, the team's cohesiveness gets a boost.

Volunteering helps the person learn new skills and gain new experiences.

It has the overall effect of making the individual happy.
Benefits to Businesses
As an employer, the benefits of volunteering are thus clear. When your employees work for a good cause, their overall well-being gets a boost. This means lower health issues and higher productivity.
Employees tend to see their employers with a positive attitude. With team volunteering programs, there will be less friction between team members. That means the team members work productively.
With volunteering programs, as an employer, you are actually letting your employees express and pursue their individual goals than what they are doing for the company. It liberates them from work pressure and enables them to refresh that is necessary for work productivity.
A person who feels satisfied with their inner self works better. Volunteering gives that satisfaction to individuals.
Volunteering Programs for Today's Workforce
The current millennial workforce is interested in working for companies that are sensitive to societal needs. Through the companies they work for, millennial employees want to make a social impact. The Millenials are careful in choosing the companies they want to work for.
As an employer, to hire and retain talent, you must understand these aspirations. Volunteering programs are thus essential to keep the new-age employees engaged and work productively.
But, Why is Volunteering Yet To Take Off In India?
Volunteering is one of the effective ways to engage employees and increase productivity. But, in the Indian scenario, very few companies have created effective employee volunteer programs. The reason is, many companies do not know where to start. This is where India Is Us comes into play.
We are a CSR consultancy in Hyderabad with a pan-India presence. As Companies are obligated by Indian laws to spend money towards Corporate Social Responsibility (CSR), we make sure that your CSR funds work for your benefit. Our expertise lies in CSR planning and strategy. Using our expertise, we create and execute employee volunteer programs that work for your company's benefit.
We have an extensive network of Non-Government Organisations (NGOs) working on twelve social causes. For your employee volunteer program, we connect you with the right NGO. We provide end-to-end employee volunteer programs that are in sync with your overall employee management program.
Give us a call to find more about what we do.