Use your power to make a difference by joining our Let's Do Good initiative.
A Glimmer of Hope for Underprivileged People
Sunday , 12 December 2021- 5 min. read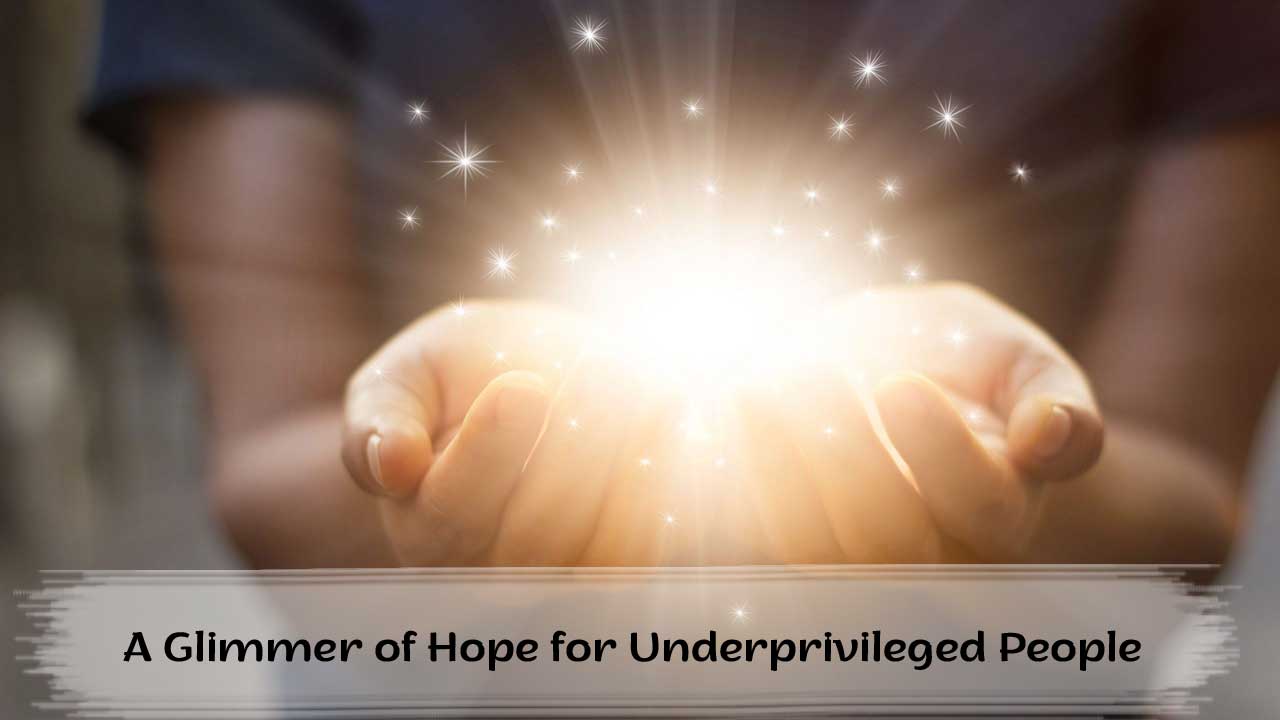 Poverty, illiteracy, lack of education, skill development and employment opportunities--- an unpleasant but true story of today's India. Data presents a horrible picture showing that India, despite a fast-growing economy is still home to 25% of the global extreme poor. The country has a young population, but sill half of India's under 18 population lives in acute poverty. To rub more salt into the wound, reports show that 27% of the population is still illiterate, which unfortunately makes India a country with the largest number of illiterate people in the world.
These gloomy statistics paint a sorry picture of the country, but then there are many organizations that are working tirelessly to change the sorry state of affairs. There are many NGOs that are working hard to provide people with education, skill development and employment opportunities to help them achieve financial independence and stand on their own feet. Here we list few such inspiring stories of change that is happening all around us.
Asha came from a poverty-stricken household. Her daily financial struggle compelled her to start working as a daily wage laborer at a very young age to support her family. She was married off at an early age, and as circumstances would have it, she lost her 2-year-old son because her poverty came in way of suitable medical care.
Despite the suffering and the hardships, Asha did not lose hope and continued working. A local NGO helped her form a self-help group (SHG) in the village, and she started selling snacks to make her ends meet. Fortunately for her, the business started doing well, and with the help of the same NGO, she approached a local bank for a loan. The money she got helped her expand her business. Her business was doing well, which enabled her to pay off her debts within the stipulated time frame set by the bank. She then applied for another loan from the bank. With the money received, she brought a delivery van to further grow her business.
Today, within a span of six years, he has expanded her business to such an extent that she now sells to wholesalers in Jalgaon and Nasik. Asha proudly claims that she has built a future for herself that she can be truly proud of.
The resident of Bhatpura village in Hooghly district, Amita's poor family unable to provide her with a decent education, married her off at a very young age of 15. She was compelled to face inhuman domestic violence and extreme financial problems. Just as she started to lose all her hope about her life and her future, she heard about free skills training provided by the rural institute of a local NGO. Resolute and firm in her beliefs, she joined handicraft making course there.
It's been three years, and so far, it has been, a journey of knowledge, information, development and learning. Inspired by her life and experience, Amita formed a women's group to help women coming from similar background as her to come together and enroll in some skill development program. They received a loan from bank, and with her share Amita opened a small handicraft shop. Today, her shop has grown big and there are around 12 employees working under her. Amita is now looked upon as a successful, independent woman, who fought against extreme hardships to reach where she is today.
There are NGOs working in the field of skill development, who provide skill training to hundreds of impoverished women like Amita to help them earn a
sustainable livelihood. Similarly, there are other NGOs that take up other causes like education, tree plantation, cleaning India, preserving heritage, fighting environmental degradation, constructing toilets, and help create a sustainable ecosystem.
It is reassuring to see NGOs making an effort, and also encouraging others to do their bit for the society. Initiatives like these play an important part in empowering people, who are financially weak and lack resources, with adequate growth opportunities. In addition to provide a ray of hope to people coming from underprivileged backgrounds, these initiatives help transform lives of poor families and give them a chance to a better life.
These heartwarming narration about transformation show us how hard work and sincerity of NGOs are bringing about the much-required change. Two inspiring tales of Amita and Asha give us hope that change and impact are not far off — all one needs is a helping hand, dedication and a care for those who are less fortunate than us.
Every effort, however small, to make earth a better place is a priceless service to humanity. India Is Us (i2u Social Foundation) believing that your individual small effort has the potential to create a happy future for all. It closely works with many well-known NGOs that are active in the field of literacy and education, animal care, elderly care, women empowerment, skill development, hygiene, child welfare, and poverty alleviation to name a few. Though their initiatives, NGOs provide disadvantaged, and neglected section of the society with pertinent skills, finances, resources and education to better their lives, and make the country a more pleasant place for all its citizens.
If you work with the belief that all citizens of the country should be given equal access to growth opportunities, and have the resources to better their lives, you should immediately get in touch with India Is Us (i2u Social Foundation). i2u works with numerous NGOs across India, focusing on twelve causes, including literacy and education, health and nutrition, environmental conservation, women empowerment, poverty alleviation, care for the elderly, animal welfare, skill development, inclusivity for people with disability, child welfare, WASH and heritage. These initiatives have impacted millions of individuals belonging to underprivileged backgrounds, and vulnerable section of the society. It works with the philosophy of Transforming Lives, which provide people with resources they need to succeed. It is their constant and consistent contribution that eventually brings about a change for the better and brighten the lives of people by providing them with a glimmer of hope. For more information, give a call at 95997 75838.