Use your power to make a difference by joining our Let's Do Good initiative.
For more inquiries, call us at +91-9599775838 or drop an email at support@indiaisus.com
Good Governance Practices and Financial Management
About Webinar
Are you an NGO facing governance problems as you scale up? Or, worried about different aspects of financial management?
i2u Social Foundation invites you to the first-of-its-kind LIVE webinar on Good Governance and Financial Management.
ii2u advisor Ms. Stuti Kacker along with Mr. Rajesh Singhi (Founder Executive Director of Ibtada) will lead the webinar, wherein she will talk about various aspects of financial management, tips to manage your scaling NGO, and good governance practices.
She'll be sharing valuable tips for NGOs from her vast experience accumulated over the years working extensively in the areas of social justice and empowerment. This webinar aims to share valuable tips with NGOs regarding importance of documentation, formal policies and practices, compliance monitoring mechanism, and establishing risk framework within the confines of the objectives of your NGO.
Do not forget to book your slot now! We have limited seats.
What you'll learn at the webinar?
Expect to learn a great deal about good governance and financial management for NGOs including:

The importance of good controls. Know more about applying these good practices at your NGO workplace.

How to establish an enterprise-wide risk framework that fits the purpose for the NGO?

The importance of documentation of formal policies and procedures and retention of evidences

How to establish a compliance monitoring mechanism to ensure the key internal controls are operating effectively and efficiently?

The implementation of effective segregation of duties within the NGO
Save Yourself A seat today
E-meet You on 25 September 2021
About the Speaker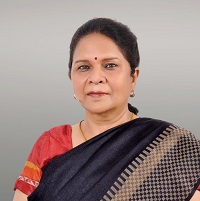 Stuti Narain Kacker
Advisory Board Member- i2u Former Chairperson- National Commission for the Protection of Child Rights
Ms. Stuti Narain Kacker- Smt. Stuti Narain Kacker was an IAS officer (1978 batch) and retired as the Chairperson of the National Commission for the Protection of Child Rights.
Rajesh Singhi - Founder Ibtada, Consultant RCRC
With 29 years of experience working as a rural development professional, Rajesh Singhi is an alumnus of the prestigious rural management institute- IRMA. As the Founder and Executive Director of Ibtada, an NGO based out of Alwar (Rajasthan), Rajesh utilizes his extensive experience in grassroots programs management to work for women empowerment, community development, SHG based microfinance, and livelihood programmes.
Rajesh derives his livelihood programmes experience from working for PRADAN prior to setting up Ibtada. PRADAN is a national level livelihood promoting NGO.
Besides working passionately for women's institutions, agriculture, and livestock based livelihood programmes, Rajesh has also served on the boards of Sa-dhan (a national level association of MFIs) and Centre of Microfinance (Jaipur). Rajesh's efforts have been praised and covered in 'Gems of Purest Ray Serene'- a book published by Tata Trusts on lives of Social Change Makers.