Use your power to make a difference by joining our Let's Do Good initiative.
i2u's Pranav Menon on Career Opportunities in Development & Social Impact at IIT Delhi
News | New Delhi, Tuesday , 04 April 2023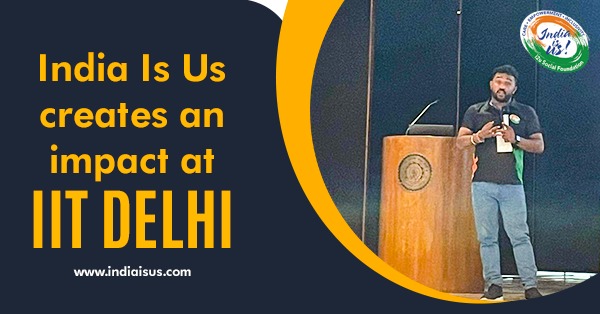 Summary: In today's interconnected world, businesses must consider not only their profits but also their impact on society and the environment. Pranav Menon, Director, India Is Us (i2u) in his special address to the students at IIT Delhi, spoke about the benefits of prioritizing development and social impact for businesses, including building a positive reputation, retaining employees, complying with regulations, accessing capital, and driving innovation.
India Is Us (i2u) is a key player in the social development sector, working through its network of over 200 NGOs, to help corporates achieve their CSR goals. Seeing i2u's commitment to development and social impact, Dr. Sudhir K Jain, Adjunct Professor at the Department of Management Studies, I.I.T. Delhi, invited Pranav Menon to address the students.
"Social Impact and Development offer excellent career opportunities for young talents. Taking up development and social impact can help students make a difference, not only in their own careers but in their businesses and society at large", said Pranav Menon.
Describing the ways development and social impact make a difference, Pranav spoke about various aspects vital for business success, including reputation, employee retention, and regulatory compliance, among others.
Sharing her thoughts, the Head of i2u, Alisha Vijoy said, "Reputation has always been a key factor for businesses. More so today, as consumers become increasingly conscious of the social and environmental impacts of their purchases. This means that focusing on development and social impact can build a positive business reputation and gain customer trust, leading to increased sales, customer loyalty, and a competitive advantage. Development and social impact also affect employee retention—as employees are more likely to stay with a company that aligns with their values and has a positive impact on society. The result is ultimately a more motivated and productive workforce."
Elaborating further, Pranav said, "Regulatory compliance is another critical aspect for businesses today. With the effects of phenomena like climate change becoming ever more tangible, governments and regulatory bodies are mandating that businesses operate sustainably and have a positive social impact. Investors too are becoming increasingly interested in businesses that place value on development and social impact. Businesses that prioritize development and social impact show their commitment to sustainability and social responsibility, which attract investors who are looking for socially responsible investments. In conclusion, development and social impact are essential for businesses to thrive in today's world. By prioritizing these elements, businesses can build a positive reputation, retain employees, comply with regulations, access capital, and drive innovation. Businesses that prioritize development and social impact can make a positive difference to themselves and to the world."
About i2u Social Foundation
India Is Us (i2u Social Foundation) is an NGO support ecosystem focused on assisting companies in fulfilling their CSR initiatives by working with verified NGOs. i2u works with hundreds of NGOs across India, working on twelve priority causes, including literacy and education, health and nutrition, environmental conservation, women empowerment, poverty alleviation, care for the elderly, animal welfare, skill development, inclusivity for people with disability, child welfare, WASH and heritage. i2u supports NGOs by helping them perform better through capacity building, sustainable growth, and donor and volunteer mobilization.
About NSS
National Service Scheme (NSS) IITD is the IIT chapter of a government body under the Ministry of Youth Affairs and Sports. We collaborate with many NGOs and work under many domains like Education, Health, Society, Innovation, etc. to address the prominent problems in our society.
About Kaizen
Kaizen is one of the largest social extravaganzas organised in India by NSS IIT Delhi, which recognises and works on the continuous developments in our society. Attracting a footfall of over 10k+ with a reach of 1500+ universities and schools across India; Personalities like Justice DY Chandrachud The Chief Justice of India, Naveli Deshmukh Miss Universe India 2nd Runner up NSS Brand Ambassador, Geeta Thatra IGES and Research Scholar, etc. have been associated with NSS in the past.
Spotlight