Use your power to make a difference by joining our Let's Do Good initiative.
India Is Us and Hitachi Lift Unite Forces to Ignite Positive Transformation with Dual Empowerment Initiatives
News | New Delhi, Tuesday , 31 October 2023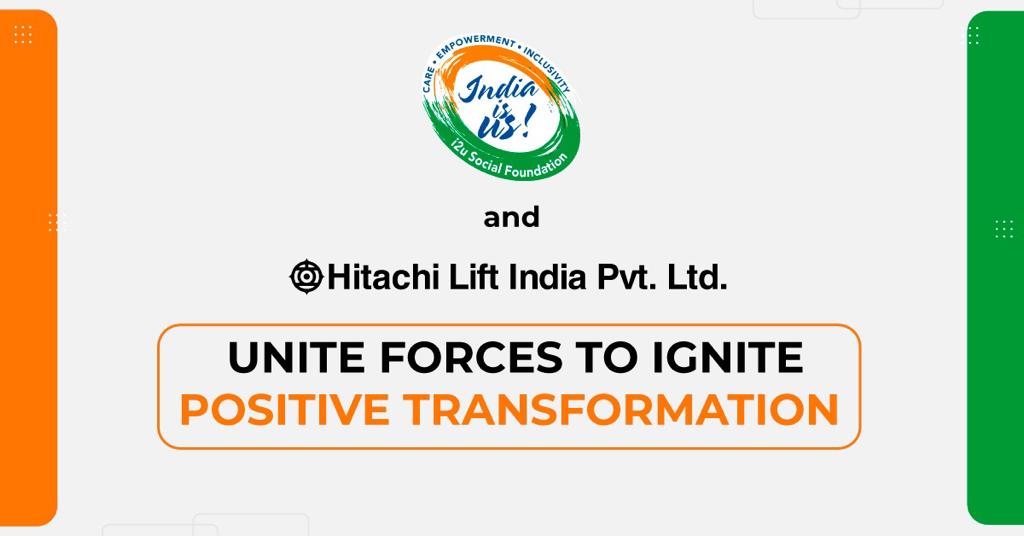 Summary: India Is Us and Hitachi Lift team up for dual empowerment initiatives, sparking a positive transformation to uplift communities
New Delhi, 31 October 2023: India Is Us (i2u Social Foundation) and Hitachi Lift India (HLI) continue to drive support for the larger community as they join hands with prominent NGOs to empower individuals and foster inclusivity through two impactful initiatives. In a double-header of benevolence, HLI extended support to Yash Sewa Samithi and Samarthanam Trust for the Disabled.
Rozi Roti Initiative - Empowering Women through Skill-building
HLI in collaboration with i2u and Yash Sewa Samithi launched the Rozi Roti initiative on 29 September to empower women with the skills needed to become self-sustaining. This initiative not only shattered stereotypes but also promoted skill-building, independence, and inclusion. The event was graced by Mr. H.N Purohit, Director of Finance, HR & Administration at HLI, who emphasized the importance of empowering women.
"At Hitachi Lift India, we recognize the transformative power of sewing in enhancing women's income. The Rozi Roti initiative is a step towards creating a more inclusive society," said Mr. Purohit.
As part of this initiative, Hitachi made a generous donation of eight sewing machines to Yash Sewa Samithi, enabling these women to embark on their journey to self-sufficiency.
Painting Classrooms for Special Children - A Heartwarming Collaboration
In their vision to empower children with special needs, HLI extended its support to Samarthanam Trust for the Disabled by engaging in a classroom painting activity at HSR Layout, Bangalore on 30 October 2023. The event brought together six representatives from Hitachi and the children from Samarthanam Trust, fostering interaction and providing insights into the meaningful impact of the paintings while showcasing Samarthanam's initiatives.
Incorporating images on classroom walls can play a crucial role in enhancing education for children with special needs. Visual aids, including images, can provide numerous benefits that cater to diverse learning styles and assist in creating a more inclusive and supportive learning environment. Collaborating with special education professionals can help ensure that the images chosen are appropriate and effectively support the educational goals of each student.
Both events were successful in fostering collaboration, creativity, and understanding of the profound impact of art and skill-building on individuals and communities. They provided a platform for shared experiences, insights, and appreciation for the remarkable work being done by the respective NGOs.
i2u and HLI remain committed to making a difference in the lives of individuals and contributing to a more inclusive and supportive society.
For media inquiries, please contact: +91 95997 75838
About i2u Social Foundation
India Is Us (i2u Social Foundation) is an NGO support ecosystem focused on assisting companies in fulfilling their CSR initiatives by working with verified NGOs. i2u works with hundreds of NGOs across India, working on twelve priority causes, including literacy and education, health and nutrition, environmental conservation, women empowerment, poverty alleviation, care for the elderly, animal welfare, skill development, inclusivity for people with disabilities, child welfare, WASH and heritage. i2u supports NGOs by helping them perform better through capacity building, sustainable growth, and donor and volunteer mobilization.
About Hitachi Lift India (HLI):
Hitachi Lift India is a leading provider of elevator and escalator solutions, dedicated to delivering excellence in vertical transportation systems. With a commitment to innovation, quality, and sustainability, HLI strives to enhance the quality of life for people in India.
Spotlight