Use your power to make a difference by joining our Let's Do Good initiative.
India Is Us and FairGaze join hands with Unicharm to Distribute 36,000 Sanitary Pads in Slums of Delhi & NCR
News | New Delhi, Thursday , 16 December 2021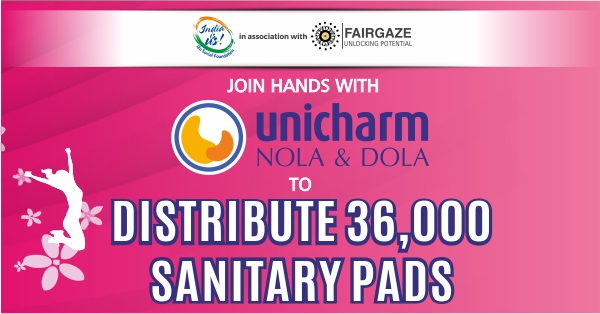 Summary: i2u Social Foundation and FairGaze have joined hands with several NGOs to distribute over 36,000+ sanitary pads in the slums of Delhi & NCR. The drive was conducted under the CSR program run by UNICHARM. The aim of this drive was to spread period-positivity by raising awareness around safe menstrual hygiene practices and dispelling age-old myths and stereotypes.
New Delhi, 16 December, 2021: Statistics shared by the National Family Health through their survey conducted in 2015-2016 highlights a major worry for all of us. The alarming statistics state only 36 percent of women use sanitary pads. This means out of 336 million menstruating women only about 121 million women are using sanitary napkins, locally or commercially produced. In India, more than 300 million women and girls rely on old clothes/rags. Unavailability of safe menstrual hygiene products like sanitary pads is a huge deterrent in creating period positivity, menstrual health awareness, and propagating hygiene practices.
With the intention to make sanitary pads accessible for women belonging to economically weaker sections of the society, i2u Social Foundation (a CSR support initiative working with NGOs) joined hands with FairGaze (a leading school media) to conduct multiple free sanitary pad distribution drives in the slum areas of Delhi and NCR. The pad distribution drives were conducted under the Corporate Social Responsibility (CSR) program by UNICHARM and several NGOs came forward to help with the distribution.
The drives benefited people from the underserved communities, Self Help Groups, daily wage labourers, and women and girls from economically weaker sections of the society. i2u's partner NGOs that came forward to help support the pad distribution drives include Tapas Foundation, Ek - Koshish Special School, Shashakt Foundation, Humanity for Human, Second Act, Lakshyam, Yash Seva Samiti, and Pinkishe. So far more than 1500+ families have been benefited. Locations covered include JJ Camp Anand Vihar East Delhi, Nala Camp, Nandram Park, Vani Vihar, Prajapat Colony, Jhandewalan Basti, Hasanpur, Mandawali, Khoda, Nawada, and many other slums of Delhi/ NCR. Few drives were conducted in Sonipat (Haryana), which benefitted more than 500 families.
Speaking about the pad distribution drive conducted under UNICHARM's CSR program, i2u Head Alisha Vijoy remarked, "Making menstrual hygiene products accessible for women and girls from economically weaker sections of society has been our top priority. Thanks to UNICHARM, FairGaze, and our partner NGOs, our free pad distribution drives are a step closer to achieving our goal."

Pranav Menon, Advocacy Director of i2u explained in developing countries, like India, it's heartbreaking that not all women have easy access to safe menstrual hygiene products. "We are committed to help bridge this gap to the best of our abilities," he further added.
About India Is Us (i2u) Social Foundation
India Is Us (i2u Social Foundation) is an NGO support ecosystem created to assist companies in fulfilling their CSR initiatives by working with verified NGOs.
i2u works with numerous NGOs across India, focusing on twelve causes, including literacy and education, health and nutrition, environmental conservation, women empowerment, poverty alleviation, care for the elderly, animal welfare, skill development, inclusivity for people with disability, child welfare, WASH and heritage.
i2u supports NGOs by helping them perform better through capacity building, sustainable growth, donor and volunteer mobilization.
Media Links :
1) https://mumbainewsnetworks.blogspot.com/2021/12/india-is-us-and-fairgaze-join-hands.html?m=1
2) https://www.dailypioneer.com/2021/pioneer-health/inbrief-inbrief-2021-12-21.html