Use your power to make a difference by joining our Let's Do Good initiative.
i2u Social Foundation Celebrates Children's Day By Conducting FREE Welfare Camps
News | New Delhi, Wednesday , 01 December 2021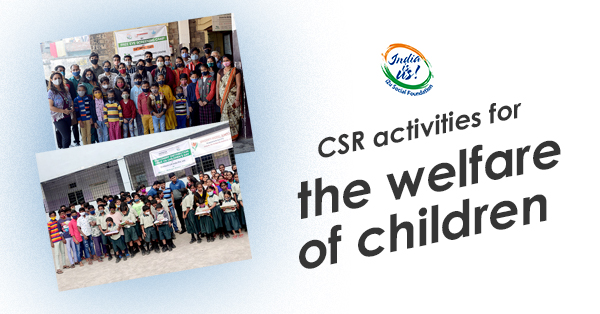 Summary: i2u Social Foundation reaffirmed its commitment to help young children by conducting FREE welfare drives that included stationery distribution and eye checkup camp at different locations on the eve of Children's Day.
New Delhi, Friday, 30th November, 2021: Children's Day, celebrated on 14th November each year, is all the more special for organizations like i2u as it gives them an opportunity to reaffirm their commitment towards child welfare. This Children's Day i2u did the same with the help of two welfare drives viz. free stationery distribution drive and free eye checkup camp. The free eye checkup camp was organized in Delhi by i2u, while the free stationery distribution took place at Medchal-Malkajgiri district in the state of Telangana.
i2u organized and conducted the free eye screening camp at Deepalaya Learning Center in Delhi, in association with, Dr. Shroff's Charity Eye Hospital. The pediatric eye screening camp was organized under Project Prakash. More than 175+ children were screened at the camp, leading to 3 children being referred for further examination and 8 children being diagnosed with refractive error. i2u will bear the cost of eyeglasses recommended to children.
Organized by i2u and conducted by Sphoorti Foundation, the stationery distribution drive took place in association with Hitachi Lifts Pvt. Ltd. under the banner of their CSR programme. The drive benefitted more than 80+ students who needed access to stationery to carry on their studies and career pursuits uninterrupted. Sphoorti Foundation is an NGO based in Medchal district that runs a welfare residential facility for orphan children and an upper primary school in
Dundigal, Medchal district. A special team including the country head of Hitachi Lifts, Mr. Balaji, visited Sphoorti Foundation to celebrate Children's Day with young students. He explained to them the importance of education in life and encouraged them towards making the best use of their time and resources available to them.
Speaking about the welfare drives, i2u head Ms. Alisha Vijoy remarked, "We are very thankful to Hitachi Lifts, Sphoorti Foundation, Deepalaya, and Dr. Shroff's Eye Charity Hospital for helping us organize these special activities. Children are our future and it is important all of us, as individuals, groups, and society at large, join hands together to ensure our little blooming flowers get the love, care, education, and health facilities they require to shine at their best".
About India Is Us
India Is Us (i2u Social Foundation) is an NGO support ecosystem created to assist companies in fulfilling their CSR initiatives by working with verified NGOs. i2u works with numerous NGOs across India, focusing on twelve causes, including literacy and education, health and nutrition, environmental conservation, women empowerment, poverty alleviation, care for the elderly, animal welfare, skill development, inclusivity for people with disability, child welfare, WASH and heritage. i2u supports NGOs by helping them perform better through capacity building, sustainable growth, donor and volunteer mobilization.
Spotlight