Use your power to make a difference by joining our Let's Do Good initiative.
Empowering Change: i2u Social Foundation Celebrates 8th Foundation Day
News | New Delhi, Wednesday , 23 August 2023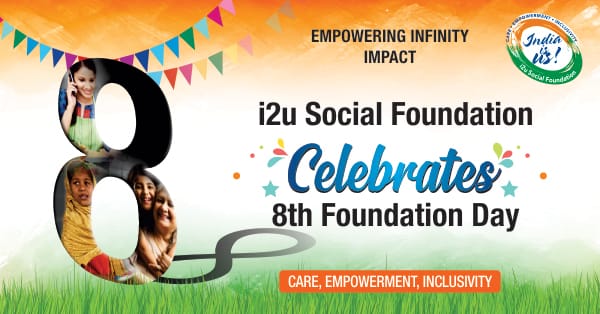 Summary: The event kicked off with a video showcasing the impact i2u has had through its various social initiatives. The host Pooja Grover Bhatnagar - CSR Advisor to i2u and host for Impact Network YT Series, then shared the story and video of a talented young artist, Pardeep, who with the fundraising support support of i2u, in association with Hilti India, overcame a series of challenges to emerge successful.
A United Effort to Combat Social Evils
The social evils that i2u has taken on encompass a spectrum of issues, including environmental degradation, gender injustice, inadequate healthcare, education barriers, neglect of the elderly, animal abuse, and more. The 8th Foundation Day brought together more than 150 NGOs, corporate CSR leaders, donors, volunteers, and social welfare experts, united in their resolve to address these challenges and catalyze positive change.
Inspiring Insights from Industry Leaders
Mr Pranav Menon Director i2u elaborated on i2u's raison d'etre, its vision and mission; to wit, act as a bridge between corporations and NGOs, helping businesses achieve their goals.
Among the event highlights were the sessions and panel discussions that were held; the first looked at the positive relationship between CSR and employee engagement.
During the first session discussion, RJ Divya Vasudeva, who works on different social causes, including WASH, asked how engaging in volunteer work not only benefits the communities and causes we support but also leads to personal growth and transformation.
Nupur Aggarwal for the Peesafe NGO highlighted how integration of corporate social responsibility (CSR) gives small businesses an edge. She wanted to learn how corporates were ensuring that employees did not consider this as an off-site activity.
Subh Maity, AVP HR & DEI at a renowned organisation, raised queries about how embedding inclusion within a corporate social responsibility strategy helps deliver equal opportunities regardless of individual attributes such as race, culture, gender, age, and disability.
The second session focused on synergies between corporates and NGOs and how it enhances the overall effectiveness of social impact initiatives.
During the panel discussion, Tanu Kathuria, Corporate- HR and CSR Head Birlasoft, asked about the best practices identified for fostering successful partnerships to drive long-lasting change in the communities you aim to support
Sonika Jha, Corporate Communication Specialist, Hilti India asked why partnering with NGOs is crucial for generating social impact. She also dwelt on the limitations that prevent corporations from achieving the same level of impact on their own.
Monica Mor, managing CSR at Perfetti Van Melle, asked for specific examples of how the organization has collaborated with NGOs to create social impact; what key strategies were employed and how they contributed to achieving meaningful outcomes.
The sessions were interspersed with engaging quizzes that say enthusiastic participation. The final winners were Beenu Sharma from Sai Dham, Aditya from SK Foundation and Soch-Ant Hi Aarambh.
Dr Melanie Van de Velde, entrepreneur and thought leader, in her address, highlighted the business benefits a company gets by making a positive impact and how companies can achieve better outcomes
Honouring Excellence and Commitment
The event celebrated the exceptional contributions of i2u's partner NGOs, awarding them honorary titles for their dedicated efforts. From a total of 52 nominees, there were several notable winners including The Samarthan Trust for Biggest Helping Hand, Visamo Kids for the Most Eloquent, We Care won the People's Choice Award, Atulya Vikas was awarded the Tech Savvy Award, Global Thought Foundation received the Maverick award and the award for i2u Bestie went to the Tapas Foundation.
A Vision for Positive Impact
In his address, i2u Co-founder Mr Sudheen M spoke about i2u's core objective, which is to help NGOs improve their performance by helping them mobilize donors and volunteers to achieve sustainable growth. Although NGO is an often neglected sector it is one of the critical elements that support societal sustainability. i2u's NGO support system has brought together several experts and hundreds of social entrepreneurs, impact professionals, donors and volunteers. i2u has identified 12 priority causes it works with and key tenets of transparency and governance define the process by which i2u identifies and validates the NGOs that align with their goals. M Sudheen said that although there is much that i2u accomplishes through its network of NGOs, much more could be done if every capable individual contributed just a few hours a month to just one NGO that worked on a cause close to their heart. The returns to society and the individual would be phenomenal.
Mr. Sudheen thanked the NGO members, volunteers, participants and all gathered for their support and the good wishes that kept the momentum going strong.
About i2u Social Foundation
India Is Us (i2u Social Foundation) is an NGO support ecosystem focused on assisting companies in fulfilling their CSR initiatives by working with verified NGOs. i2u works with hundreds of NGOs across India, working on twelve priority causes, including literacy and education, health and nutrition, environmental conservation, women empowerment, poverty alleviation, care for the elderly, animal welfare, skill development, inclusivity for people with disability, child welfare, WASH and heritage. i2u supports NGOs by helping them perform better through capacity building, sustainable growth, and donor and volunteer mobilization.
Spotlight