Use your power to make a difference by joining our Let's Do Good initiative.
i2u Takes Centre Stage at India's Largest Conclave on Menstrual Hygiene Management
News | New Delhi, Tuesday , 24 January 2023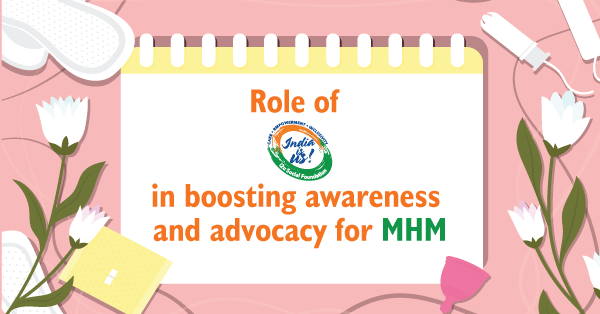 Summary: India is Us (i2u), in association with Gramalaya, a Tiruchirapalli-based NGO, put the focus firmly on women's sanitary needs at India's largest conclave on Menstrual Hygiene Management. Held on January 11-12, 2023 in New Delhi, the event brought together delegates and dignitaries from across India. The conclave saw discussions on ways to improve awareness and access to safe, eco-friendly menstrual products.
The conclave sponsored by Dettol included international dignitaries like His Excellency Mr. Freddy Svane, Ambassador of the Royal Danish Embassy in India, and Her Excellency Ms. Olga Gauci, Spouse of the High Commissioner of Malta.
Ms. Alisha Vijoy, Head of i2u Social Foundation, was invited to speak at the event. Ms. Vijoy discussed the role of the media in boosting awareness and advocacy for menstrual hygiene management and highlighted the importance of NGOs leveraging the power of social media to draw and sustain attention.
Gramalaya, which has been working for 35 years to improve menstrual hygiene in rural villages, has resolved to conduct similar summits in all major cities in India. The organization aims to raise awareness and encourage corporate companies to support the production of safe and eco-friendly menstrual products.
"From behind-the-hand whispers to a confident voice, from an exclusively female issue to open family conversation, from black plastic wrapper to neatly wrapped, hygienic sanitary pack, thanks to media efforts, the subject of menstrual hygiene has come a long way," said Ms. Vijoy. She added, "At India is Us, we're doing our bit to engage young minds. Our various initiative across India have helped boost participation of both the genders. Through initiatives like this one, we reach more than 50,000 students every year."
About i2u
India Is Us (i2u Social Foundation) is an NGO support ecosystem focused on assisting companies in fulfilling their CSR goals. i2u works with hundreds of NGOs across India, focusing on twelve priority causes, including literacy and education, health and nutrition, environmental conservation, women empowerment, poverty alleviation, care for the elderly, animal welfare, skill development, inclusivity for people with disability, child welfare, WASH and heritage. i2u supports NGOs by helping them perform better through capacity building, sustainable growth, and donor and volunteer mobilization.
Spotlight