Use your power to make a difference by joining our Let's Do Good initiative.
India Is Us & Crystal Hues Calendar 2021 Draws Attention to Population Explosion
News | New Delhi, Friday , 29 January 2021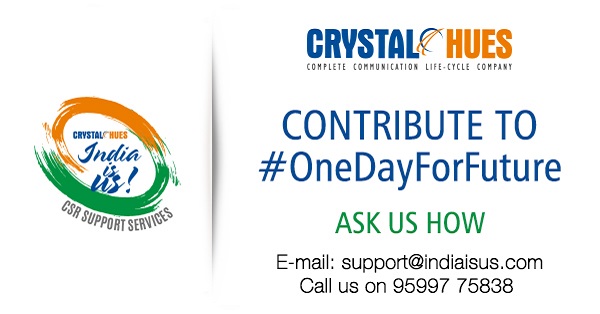 Summary: India Is Us and Crystal Hues Limited's 2021 calendar brings attention to the urgent need to contain population explosion in the country. In the 2021 calendar, India Is Us continues with its 'Contribute #OneDayForFuture' drive proposed to encourage community participation in social development.
As we step into 2021, there is a major challenge gearing up in front of us. If the current projections are to be believed, India will be soon surpassing China as the world's most populous country. In fact, as soon as by 2027. This will inadvertently pose toughest challenges for the country's economy and resources. Environment, economy, social welfare schemes, education efforts, and basic infrastructure- everything and everyone will be affected by the population explosion.
India Is Us aims to highlight this pressing issue, through their 2021 calendar themed on the disastrous impact of population explosion on various socio-economic aspects of the country. The calendar depicts this drastic impact on twelve social causes via the twelve months of the year. These social causes are very likely to suffer under the weight of a heavy population. The calendar aims to educate, encourage, and motivate all stakeholders- society, individuals, and nonprofits to take necessary actions in this direction.
The calendar also continues with the 'Contribute #OneDayForFuture' drive started by India Is Us last year. The drive encourages people to connect with NGOs associated with India Is Us.
You can check the calendar here: https://www.youtube.com/watch?v=Kjsm0dWDcL0
India Is Us, the CSR support initiative of Crystal Hues Limited, helps NGOs communicate better, connect with CSR initiatives of corporates, and reach out to the right audience and right resources. India Is Us helps maximise the impact of the NGOs projects and initiatives.
Spotlight