Use your power to make a difference by joining our Let's Do Good initiative.
i2u Implements Unique Employee Engagement Day for CHL
News | New Delhi, Saturday , 24 June 2023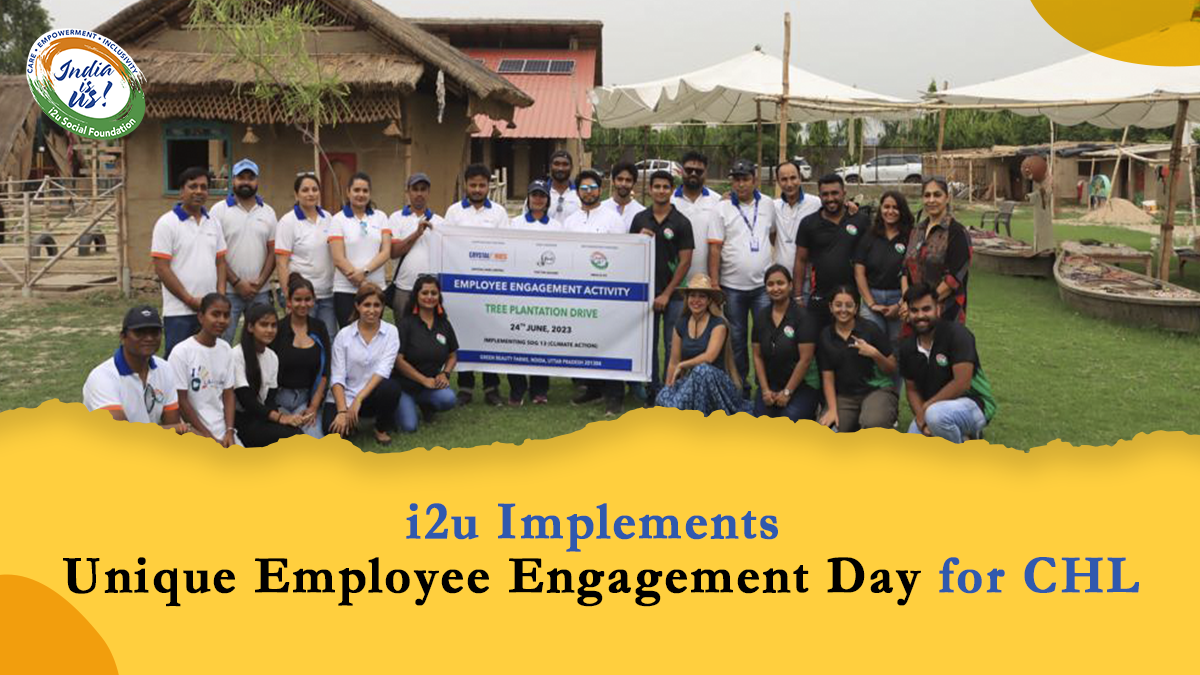 Summary: Noida, 24 June, 2023 - i2u Social Foundation, in association with NGO partner Tuk Tuk Gilhari and Crystal Hues Limited (CHL), successfully organized an engaging Employee Engagement Activity on Saturday, 24th June 2023.
The event took place at Tuk Tuk Gilhari Farms, where 25 employees from Crystal Hues actively participated in a series of activities aimed at fostering team spirit, environmental consciousness, and community engagement.
The event commenced with an entry session, setting the stage for an exciting day ahead. The keynote speaker, Mr. P Menon, Director of i2u, spoke about the significance of employee engagement and the positive impact it can have on both individuals and the community.
Sudheen M, Founder of Crystal Hues Limited, said, "We all have a duty to act with empathy and understanding towards our community and the environment. Thank you to i2u for taking the time and trouble to implement this initiative."
The day included a number of activities designed to connect the employees with nature and promote eco-friendly practices. Employees got the opportunity to feed and interact with animals, gaining firsthand experience in responsible animal care. This provided a sense of joy and also fostered empathy towards our fellow creatures.
This was followed by a Paper Pen Making session, where employees learned about the environmental benefits of using paper pens. Participants were provided with the necessary materials and tools, such as newspapers and refills, to create their own paper pens. This hands-on activity encouraged creativity and teamwork among the participants.
Next came the Bio Enzyme Activity, where employees were introduced to the production and uses of bio-enzymes. They received step-by-step guidance about the process of preparing bio-enzymes. And they got the chance to put their learnings into practice. The participants were divided into small groups, and each team had the opportunity to prepare a batch of bio-enzyme, gaining practical insights into its positive environmental impact.
In a concerted effort to contribute to the environment, the employees planted 25 saplings during the Plantation of Trees activity. They were instructed on proper tree planting techniques, ensuring the long-term growth and nourishment of the saplings. The significance of trees and the vital role they plan in sustaining a healthy environment was emphasized throughout the session.
As the day drew to a close, all the participants gathered for a wrap-up session. Gratitude was expressed to the employees for their active participation and efforts, and to i2u for their painstaking efforts in conducting the event. The collective impact of the activities on the environment was highlighted, showcasing the commitment of Crystal Hues to sustainable practices. A Q&A session provided an opportunity for employees to share their experiences and insights.
Members of i2u Social Foundation, Tuk Tuk Gilhari NGO, and Crystal Hues expressed pleasure at the success of the Employee Engagement Activity. This collaboration exemplifies the organizations' shared commitment to employee well-being, community engagement, and environmental responsibility. "Such initiatives serve as a testament to the importance of corporate social responsibility in creating a positive impact on society," said Mr. Sudheen M.
About i2u Social Foundation
India Is Us (i2u Social Foundation) is an NGO support ecosystem focused on assisting companies in fulfilling their CSR initiatives by working with verified NGOs. i2u works with hundreds of NGOs across India, working on twelve priority causes, including literacy and education, health and nutrition, environmental conservation, women empowerment, poverty alleviation, care for the elderly, animal welfare, skill development, inclusivity for people with disability, child welfare, WASH and heritage. i2u supports NGOs by helping them perform better through capacity building, sustainable growth, and donor and volunteer mobilization.
About Crystal Hues:
Crystal Hues Limited is uniquely positioned as the ideal communications partner providing complete communication life-cycle services through its five specialized verticals namely CHL Localization focused on translation and localization, CHL Worldwide focused on integrated advertising, CHL Digital focused on digital marketing, CHL SofTech focused on building technology solutions and CHLEAR focused on delivering integrated business solutions. The procedures and systems practiced by Crystal Hues Limited are ISO 9001:2015, ISO/IEC 27001:2013 & ISO 17100:2015 certified and works with more than 5,000 clients, including large multinational companies, small and medium enterprises, and government establishments.
Spotlight