Use your power to make a difference by joining our Let's Do Good initiative.
i2u Social Foundation Conducts #WaterHero Session At Corning Life Sciences' Meet
News | New Delhi, Saturday , 30 July 2022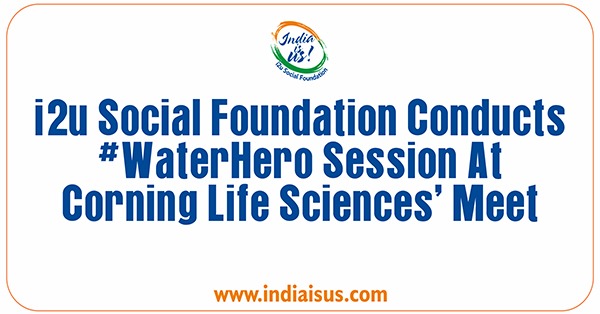 Summary: i2u Social Foundation privileged to be invited by Corning Life Sciences to conduct a #WaterHero session at their Channel Partners Meet. The session created awareness about the importance of conserving water along with a LIVE demonstration of constructing a cost-effective water filtration system using an earthen pot, which was replicated by all the participants with fervor.
New Delhi, Saturday, July 30, 2022: Clean fresh drinking water is a basic necessity of life. Unfortunately, around 1.1 billion people around the world lack access to water, and 2.7 billion experience water scarcity for at least a month annually. 2.4 billion people are exposed to water-borne diseases like cholera and typhoid due to inadequate sanitation. Two million people worldwide, mostly children, succumb to diarrheal diseases alone.
These shocking statistics highlight the urgent need to focus on conserving water and providing easy access to clean drinking water to people from all walks of life. This is why i2u Social Foundation, along with several of its partner NGOs, has included water conservation and sanitation as one of its priority social causes.
Adding a new chapter to i2u's fresh attempts to propagate the message, Corning Life Sciences- a leading developer, manufacturer, and global supplier of scientific laboratory products for over 90 years, invited i2u to conduct a #WaterHero session at their Channel Partners Meet.
An extension of i2u's #OneDayForFuture initiative, the #WaterHero session at Amritsar aligned with United Nations-led Sustainable Development Goals SDG 6 (Clean Water & Sanitation). The interactive session highlighted the importance of the availability of clean drinking water and water conservation. i2u representatives talked at length about the challenges faced by underserved sections of the society as efficient water filtration and sanitation still aren't easily accessible to them. This posed several health risks in the form of outbreaks of water-borne illnesses that could be easily avoided with cost-effective water cleaning systems.
To this grave issue, i2u demonstrated the construction of a simple and effective water filtration system using an eco-friendly earthen pot. This eco-pot would not only provide safe drinking water but is also very cost-effective to build.
Several attendees came forward to join i2u in its mission to #DoGood. They made generous donations to help continue social welfare activities.
The session concluded on a happier note with a commitment to install these eco-pots in the slum areas of Delhi.
Speaking about the #WaterHero session, i2u Head Alisha Vijoy remarked, "Clean drinking water is a basic human necessity and i2u is committed to helping realize it. Our motive for holding these sessions is to encourage people to conserve water and teach them simple techniques to filter water at home using basic tools like an earthen pot. Water-borne illnesses are completely avoidable and in modern society, nobody should have to deal with them."
About India Is Us
India Is Us (i2u Social Foundation) is an NGO support ecosystem that assists companies in fulfilling their CSR initiatives by working with verified NGOs. i2u works with hundreds of NGOs across India, focusing on twelve causes, including literacy and education, health and nutrition, environmental conservation, women empowerment, poverty alleviation, care for the elderly, animal welfare, skill development, inclusivity for people with disability, child welfare, WASH and heritage. i2u supports NGOs by helping them perform better through capacity building, sustainable growth, and donor and volunteer mobilization.
Spotlight