Use your power to make a difference by joining our Let's Do Good initiative.
Dr Anita Prasad Joins Hands With i2u for a Pride Ride Unlike Any Other
News | New Delhi, Tuesday , 28 February 2023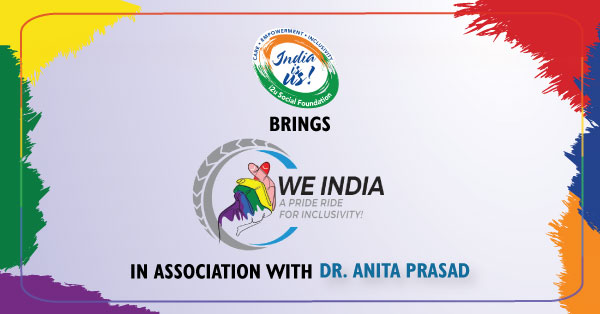 Summary: New Delhi, India - Pride month, this year, will see writer, speaker, and change-maker Anita Prasad in the company of an unlikely group of riders embark on a transformative journey from Kashmir to Kanyakumari. The We India Ride, as this pride ride has been named, will traverse 12,000+ kilometers, from the majestic locales of Ladakh, Indochina, and the IndoPak borders to the southernmost tip of India. The riders, who comprise a mix of transgenders and their supporters, will interact with NGOs that aid the elderly, homeless, orphans, and those in need, as well as police officers, the CRPF, and Indian Defence Officials. They will cross over 150 towns and 6 major metropolitan citiesover 150 towns and 6 major metropolitan cities reaching almost every individual across India, touching a variety of communities and cultures to remind the world that LGBTQAI+ is one with the nation. The ride is a reminder that we all have a role to play in creating a more just and equitable society.
We India Ride, a Ride for Pride
The ride, organized by the social foundation India Is Us (i2U), in association with Dr. Anita Prasad, aims to highlight the challenges faced by the transgender community in India, the importance of inclusivity and acceptance of all individuals in society, and to raise awareness about the need for more comprehensive policies and laws to protect the rights of transgender individuals in India.
As a member of the transgender community herself, Dr Anita Prasad, in an earlier lifetime in India, has herself suffered the inhumane treatment meted out to trans people. A software developer by profession, Dr. Anita Prasad is currently based out of Munich Germany. Now, Dr. Prasad is back in India to help members of the trans community grow through her own experiences, while bringing awareness to the general public about the challenges transgenders face.
Despite the landmark Supreme Court judgment in 2014 recognizing transgender individuals as a third gender and granting them fundamental rights, the community still faces significant discrimination and marginalization. Transphobia, homophobia, sexism, and other negative mindsets have created barriers that prevent trans students from admission to their choice of education, restrict their career choices, their choice of life partners, and generally subjugate them.
Speaking to the press, Dr. Prasad said, " I am pleased to join hands with i2u. As agents for social change, i2u is rendering yeoman service to all disadvantaged communities. The transgender community in India faces many challenges, and through this ride, we as a society can come together to support and uplift them."
The ride hopes to gain traction on social media, with several prominent influencers expressing their support and admiration for the riders' courage and determination. The ride will make several stops on their journey to meet members of the transgender community, learn about their struggles, and share their message of hope and solidarity.
Mr. Pranav Menon, Director i2u said, "The Kashmir to Kanyakumari Pride Ride is not a solo effort, rather it should serve as an inspiration to come together and stand up for the rights of marginalized communities."
The We India Ride will conclude in Kanyakumari, the southernmost tip of India, where the riders will be welcomed by members of the transgender community and other supporters. i2U, Dr. Anita Prasad, and the group of riders expressed their gratitude for the overwhelming support and pledged to continue their efforts to create a more inclusive and accepting society for all.
For more information about the ride and the cause, please contact: 9717301253
About i2u Social Foundation
India Is Us (i2u Social Foundation) is an NGO support ecosystem focused on assisting companies in fulfilling their CSR initiatives by working with verified NGOs. i2u works with hundreds of NGOs across India, working on twelve priority causes, including literacy and education, health and nutrition, environmental conservation, women empowerment, poverty alleviation, care for the elderly, animal welfare, skill development, inclusivity for people with disability, child welfare, WASH and heritage. i2u supports NGOs by helping them perform better through capacity building, sustainable growth, and donor and volunteer mobilization.
About Dr. Anita Prasad
An influential writer, thinker, and speaker, Dr. Anita Prasad is the first Indian origin transgender woman in Germany and Europe. She has completed her graduate and postgraduate studies at Bangalore University (India) and earned a PhD degree from California, she is also an alumnus of the London School of Business and Political Science. She has been living as a "Transgender Woman" in Germany since the beginning of 2021. As an active member of the LGBTI+ community, she plans to spread awareness through various campaigns and We India is a part of this.
Spotlight