Use your power to make a difference by joining our Let's Do Good initiative.
Breaking Taboos: i2u Supports Birlasoft's Campaign on Menstrual Hygiene
News | New Delhi, Wednesday , 31 May 2023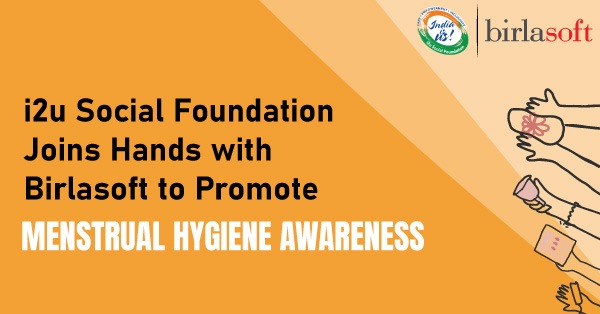 Summary: i2u Social Foundation, a leading nonprofit organization dedicated to social causes, lent its support to Birlasoft in a nationwide campaign to spread awareness about menstrual hygiene. This crucial initiative aims to break taboos, dispel myths, and ensure that women have access to necessary menstrual hygiene products. The campaign has special relevance given that 28th May is celebrated as International Menstrual Hygiene Day.
The campaign conducted informative workshops in six key locations, including Noida, Bangalore, Hyderabad, and Chennai, benefitting more than 700 women.
The workshops provided valuable information and education on menstrual hygiene, empowering girls and women with accurate knowledge while promoting proper, healthy practices. Support sponsors Pee Safe provides menstrual cups and cotton pads to the beneficiaries.
Recognizing the challenges faced by marginalized segments, the campaign made a significant effort to support girls and women from disadvantaged backgrounds by providing them with access to essential requirements such as pads and menstrual cups. This support plays a vital role in ensuring that every woman can manage her menstruation in a safe, hygienic, and dignified manner.
i2u Social Foundation collaborated with various NGOs from its partner network including APSA - Hyderabad, Siragu - Chennai, Child Support Foundation- Bangalore, Ley Womenite and Lok Manch - Noida, Global Thought Foundation - Mumbai, and Utkal Yuva Samit - Pune, to shape and execute this impactful initiative. These strategic partnerships brought together diverse expertise, resources, and networks, enabling the campaign to effectively reach its target audience and maximize its overall impact.
"I2U Social Foundation believes in creating a society that is inclusive, informed, and supportive of women's health and well-being. By supporting Birlasoft in this campaign to spread awareness on menstrual hygiene, we are taking a significant step towards breaking taboos, providing access to necessary products, and empowering girls and women across the nation,*" said Alisha Vijoy, Head i2u Social Foundation.
Efforts like these reflect the commitment of i2u Social Foundation and its partner NGOs to address the menstrual hygiene needs of women in India. Through such initiatives, they aim to foster a more inclusive and informed society where every woman can experience dignity and well-being.
For more information about i2u Social Foundation and its initiatives, please visit https://www.indiaisus.com/ or contact at +91 95997 75838
About i2u Social Foundation
India Is Us (i2u Social Foundation) is an NGO support ecosystem focused on assisting companies in fulfilling their CSR initiatives by working with verified NGOs. i2u works with hundreds of NGOs across India, working on twelve priority causes, including literacy and education, health and nutrition, environmental conservation, women empowerment, poverty alleviation, care for the elderly, animal welfare, skill development, inclusivity for people with disability, child welfare, WASH and heritage. i2u supports NGOs by helping them perform better through capacity building, sustainable growth, and donor and volunteer mobilization.
For more information visit: https://www.indiaisus.com/

About Birlasoft
Birlasoft is a globally recognized IT services and solutions provider, empowering businesses on their digital transformation journey. With over 29 years of experience, Birlasoft combines domain expertise, technology innovation, and a global delivery model to deliver exceptional value to clients across industries.
Birlasoft offers a comprehensive range of services including IT consulting, application development, enterprise solutions, digital services, cloud enablement, and cybersecurity, Birlasoft partners with leading technology providers to deliver customized solutions that address clients' unique challenges and help accelerate their growth.

For more information visit: https://www.birlasoft.com/
Spotlight